Statehouse Report – MYSTERY PHOTO: Could be difficult

A reader sent in this mystery photo, which could prove quite tricky. Hint: it's along the coast of South Carolina. Send your proposal to [email protected] — and don't forget to include your name, city of residence and contact information.
Last week's mystery, "Surrounded," showed a crypt near the ruins of Old Sheldon Church in Beaufort County. Several readers have correctly identified him, including Henry Eldridge from Tega Cay; George Graf of Palmyra, Virginia; Elizabeth Jones Columbia; Allan Peel from San Antonio, Texas; lubber line of Anderson; David Lupo of Mount Pleasant; and Bill Segars of Hartville.
Jones shared: "The ruins of Old Sheldon Church in Yemassee, SC also include the graveyard with its tombs, mausoleums and crypts from the 1750s to the early 1800s. The original parish church of Prince William was erected from 1753. It was completed but burned down by loyalists during the Revolutionary War. The roof and interior were restored, but the church was again burned or destroyed by Federal troops during the Civil War.
"The church began to be called Sheldon, and later Old Sheldon, after Colonel William Bull's plantation of the same name. Colonel Bull helped [Georgia's James] Oglethorpe in the development of the downtown Savannah Georgia network, but I digress. Colonel Bull is buried in Old Sheldon Cemetery.
Send us a mystery

. If you have a photo that you think will surprise readers, send it (but be sure to tell us what it is, because it might surprise us too!) Send it to:

[email protected]

and mark it as a photo submission. Thank you.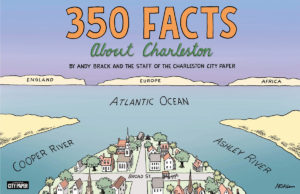 350 FACTS
ORDER NOW: Copies are now in bookstores in the Lowcountry area, but if you can't get through, you can order a copy online today.