FlipBuilder allows everyone to download online photo album software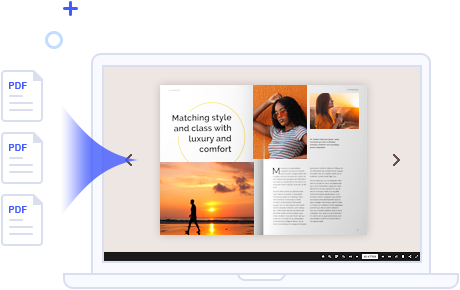 Flip PDF Plus Pro easily converts memorable photos into animated creative photo albums in minutes without the need for special design skills.
Photo album software becomes the new way to save the best memories and cherish them forever. If you are looking for a professional, easy to use online photo album software, Flip PDF Plus Pro is a rational choice. Flip PDF Plus Pro is the ultimate software that offers a dazzling array of choices to easily customize a photo album in minutes. Moreover, users can convert images into a memorable photo album with page flip transition effect in minutes. Flip PDF Plus Pro enables anyone to use online photo album software and create visually appealing digital photo albums.
Moreover, the software allows users to take their digital photo albums to the next level with animated elements, inserting YouTube videos, Vimeo videos and animations. Flip PDF Plus Pro is one of the best programs that helps users download free photo album software online and create personalized albums for different kinds of occasions. Users can change the layouts and features of the picture book template to give each a unique look.
"Don't hoard your favorite photos – create photo albums to put them in the spotlight. We offer you a solution to record your memories in an interactive and leafable digital photo album. The software is very easy to use and can create personalized photo albums in minutes yet offers a lifetime of joy. Don't forget to add text captions to expand your memories," says Lynn Tang, Customer Service Manager at FlipBuilder.
Users can drag and drop page designs to customize their albums by adding and removing pages. And thanks to the software's multiple sharing options, the unique photo book is accessible to everyone. Whether publishing it on the cloud server, sharing it with an audience via blogging websites, sharing it with close friends on social media, or saving it in an offline format, the options are many.
The feature-rich online photo album software generates excellent editions for desktop, mobile, and tablet. Regardless of the end device, viewers will enjoy an immersive experience of viewing interactive photo albums. In short, creating animated photo albums is also easy with Flip PDF Plus Pro. Finalize a photo album with an artistic touch, save it and share it with those who care using Flip PDF Plus Pro.
For more information on downloading online photo album software, please visit FlipBuilderName.
About FlipBuilder
FlipBuilder is an innovative and professional digital publishing platform, providing the best solution to convert static PDF files into a beautiful online flipbook. From design to delivery, we focus on ease of use and operating power. Unlike traditional print publications on paper, you can create a stylish digital magazine online in several steps.