FL PressSec lies about family drag show, uses photo of straight stripper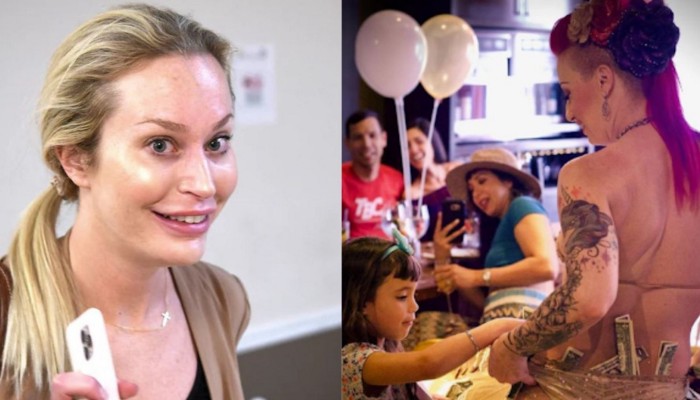 By James Finn | DETROIT – You probably haven't heard of CatholicVote, which calls itself "the best Catholic advocacy organization in America" ​​and also a "community of patriotic Americans". You may remember when their Youtube the video went viral because people mistook it for a hilarious parody. When the public learned CatholicVote were serious, the video became one of the most devalued in YouTube history.
Recover your public library? Whose library?
I'll spill those juicy details in a minute, because the video speaks powerfully about what the band is up to now – trying to public library empty shelves of LGBTQ-themed books during Pride Month by lying, cheating, and working to impose religious beliefs on Americans of different or no religious traditions.
New CatholicVote implies that public libraries only belong to certain types of Americans, and certainly not to LGBTQ Americans. Here is what happens:
What is CatholicVote's Hide the Pride campaign?
CatholicVotI just launched "Hide the pride", which they call "a parent-led movement to empty local taxpayer-funded libraries of progressive sex and gender-related content aimed at children."
"It's June!" proclaims their webpage. "Do you see rainbow-trans-BLM flags everywhere? Including in your taxpayer-funded public spaces? We do. And we are meeting the challenge head on.
The group does not explain why the rainbow's message of love and inclusion is a "challenge". Nor do they say what they have against Black Lives Matter, why Catholics should oppose working to protect black people from the police, or what BLM has to do with LGBTQ equality. (We sense that they don't comment with empathy on the intersectionality of oppression.)
They say they don't want children, ANYONE'S CHILDREN, to be able to access library books written for or about LGBTQ youth. By "taking up the challenge", CatholicVote means sending armies of supporters to public libraries, multiple library cards in hand, to check out whatever LGBTQ-themed books they can find on display — not to read them, to keep them out of the hands of people who want to read them.
They also suggest hiding books high on shelves where people won't spot them.
Will CatholicVotes participatory censorship work?
Danika Ellis from the library/book magazine riot book said probably not. She says librarians regularly order more copies of popular (frequently viewed) books and disappearing books, so the tactic will likely backfire in the long run, even if it empties a few shelves in June.
Who are CatholicVote?
The group is not part of the official Catholic Church, but claims a significant Conservative-Catholic membership. Based in Madison, Wisconsin, the group is divided into three entities: a primary advocacy group that conducts public campaigns like Hide the pride, a Political Action Committee (PAC) that funds conservative (almost always Republican) politicians and a tax-deductible 501(c)3 program divided into education and legal action funds.
In their last Annual Reportthey claim 282,000 social media followers and 3,000 volunteers nationwide, although they do not disclose financial data.
They seem to be at least moderately well-funded, sometimes producing shrewd media and direct mail campaigns. According to the Observatory of Political Transparency secret open, the CatholicVote PAC spent about 877,000 USD in the 2019/2020 election cycle, split between media campaigns and donations to conservative politicians.
CatholicVote VIDEO arguing that American Catholics are oppressed because they cannot force other Americans to follow Catholic teachings of marriage. This video with almost 2 million views, has only 6,000 likes and has become one of the most voted videos in YouTube history.
What is CatholicVote trying to impose religion on people?
This is where it gets hilarious Youtube video is coming. In 2015, when the Supreme Court ruled that equal marriage was a constitutional right, CatholicVote released a video in which actors, some of whom have shed tears, claim they are "oppressed" because they cannot restrict marriage to the general public based on their private religious beliefs.
Many people thought the video was an Onion-style parody. Going through the comments section, some people even today take it for one.
Other commenters understand that the video is sincere and write things like, "I'm so sorry for you. I can't believe how people getting the rights they deserve and being treated the same completely ruin your life.
The video is a real shock.
I mean, think about it, as a gay man, I have no say in Catholic people getting married. My opinion is irrelevant, as it should be. Catholics should be free to marry (or not marry) whoever they choose. They should be free to practice their religion as they see fit.
But the freedom to practice one's religion is not enough for CatholicVote
They want their private religious beliefs to dictate MY marriage, even though my marriage has nothing to do with them, their religion, or their Church.
They claim that if I oppose their imposing their religion on me, I oppress them and they can literally cry.
But don't take it from me. Kos Daily called him the "dumbest video in all of internet history", while acknowledging that many people found comic relief in it:
The theme "you are not alone" will certainly resonate with many Americans who feel they are rapidly losing their right to obnoxiously dominate their sincere belief in their own inherent supremacy over their fellow Americans.

"Not Alone" also educates people that anti-gay Americans are the real oppressed victims who are now suffering so much they cry real tears on cue and on camera.
Now CatholicVote insists that the general public parent children based on private Catholic religious beliefs, whether the parents are Catholic or not.
So CatholicVote wants supporters to use dishonest tactics to keep or hide books from people. Is it really a big problem? I mean, isn't it funny? Catholics running around avoiding librarians and hiding books? Almost as funny as that silly video? Of course, it's at least laughable!
But, and this is big:
LGBTQ children are at serious risk. They think about and act on suicide at rates 4-5 times higher than their cis/straight peers. More than 40% of homeless teens in the United States identify as LGBTQ, a staggeringly disproportionate number according to analysts, driven by rejection from family, largely over religious beliefs.
According The Trevor Project, things are getting worse, not better, as conservatives trumpet their anti-LGBTQ hatred ever louder. Their crisis lines began to become overwhelmed last fall and call volumes continue to increase.
One thing we know for sure about LGBTQ youth is that when they see themselves portrayed in media and books, their mental health improves. When they have safe havens like libraries where they can hide from scorn and disapproval, they are less likely to suffer harm.
In light of this, I would like to ask people to CatholicVote one question: are you willing to accept moral responsibility for fueling the frenzy that hurts LGBTQ children?
I would also like to ask them why they think other people's children are their business. I would like to tell them that if they don't want their own children to see LGBTQ people positively portrayed in books, they can monitor their children and restrict their children's access to books.
I don't think that's a good idea, personally, but just like marriage decisions for Catholics, that's none of my business. And it works both ways.
Hey, CatholicVote, what MY children read in the library is none of your business. A large majority of Americans (including a majority of secular Catholics, according to PEW and PRRI) support LGBTQ equality and inclusion.
So how about stepping back? How about admitting that if you have to use underhanded tactics to hide books from people, you've fallen off a moral cliff?
Censorship sucks. Hiding books sucks. Checking books so people can't read them is pathetic, as pathetic as crying crocodile tears because you can't impose your religion on people.
************************
James Finn is a columnist for LA Blade, a former Air Force intelligence analyst, alumnus of Queer Nation and Act Up NY, and an unpublished "agent" novelist. Send questions, comments and story ideas to [email protected]
********************
The previous article has already been published by Prism & Pen – Amplifying LGBTQ voices through the art of storytelling and is republished with permission.