Datacolor Spyder Checkr Photo Makes Color Correction Easy
If there's one thing that's constant in the world of photography, it's the endless list of gear and accessories we end up spending our money on. Between the cameras, lenses, lights, and grip, the numbers add up quickly, but what's most important (besides getting the focus) is making sure the colors look exactly as we want. That's where the new Datacolor Spyder Checkr Photo comes in.
---
Full disclosure: This story is brought to you by Datacolor.
---
The recently launched Spyder Checkr Photo was designed to help creatives quickly and easily achieve consistent and accurate color correction across each of their cameras, sensors and lens combinations in Adobe Lightroom Classic, Adobe Camera RAW (in Photoshop) and Hasselblad Phocus. Just use the Spyder Checkr Photo color target cards when shooting them as a color reference.
Ideally, you would do this for every camera and lens combination used – and personally, I do this every time I change light setups and locations as well. Then the SpyderCheckr software will automatically color correct your images by creating an HSL (hue, saturation, and luminance) preset to use whenever you choose quick color correction.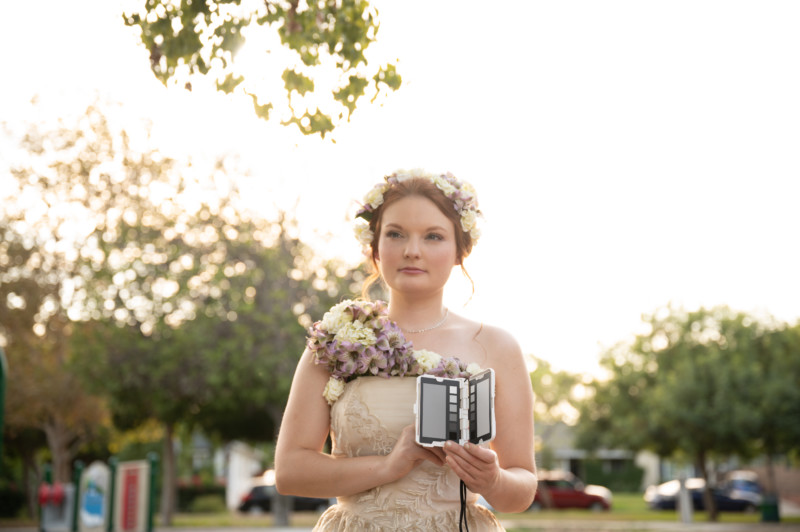 The tool itself comes with a hard outer case to protect the color swatches carried inside. The case (and cards) are small, light and even have a removable lanyard making storing and transporting the system incredibly easy. Inside, the system features a set of four interchangeable cards that feature 48 color targets with an expanded complexion providing incredible precision ideal for portraits.
In addition to the 48 color targets, the updated Spyder Checkr Photo includes 14 extended, large-scale gray balance targets to allow for greater depth and detail in images. Both sets of cards are printed with an ultra-matte finish on museum-quality paper printed with long-lasting ink (made from 78% bamboo) which allows "the most accurate color renditions and the darkest blacks". as deep as possible.
What's great about this new addition to the Spyder Checkr line is that the cards are completely interchangeable and easy to replace, or even add new cards as color offerings expand. Give creatives an even more customizable solution for their post-processing.
So why is this important?
Color management, and specifically this tool, is far more important than many creatives realize. When photographing a brand's product line or clothing line, place yourself in a position where specific colors and highlights are key to the ad campaign. Without proper color correction, the red, green, blue or any other color of the photographed object will likely be a very different color in the photograph than what you see in person. If you end up delivering a set of fully retouched images with colors completely turned off, let's face it, your client is going to be very unhappy.
An added benefit of using Spyder Checkr Photo in a reference photo with the product(s) being photographed is that you would have a "true" color reference that you can look at both at home and color correct on the screen. This will give users a more literal way to review colors with their customers.
In addition to finding "true color," the Spyder Photo Checker will help creatives maintain consistency across multiple shots, cameras, lenses, and locations. Using Datacolor software to create color correction profiles and presets will help speed up your workflow by automatically color correcting each set of images based on the "test image" captured for each device photo, lens and location used. If used correctly, it will help you create a cohesive look for your clients without having to spend a ton of time trying to match colors and change them after the fact.
According to the company, "Datacolor's commitment to color accuracy has been essential in all aspects of the development of Spyder Checkr Photo; from selecting premium papers that meet ISO 9706 standards, meeting stringent requirements for resistance to ageing, to high quality inks that deliver lasting color integrity. Our precise quality control processes and attention to every detail allow us to offer photographers an exceptional tool that delivers exceptional color accuracy and workflow efficiency in the palm of your hand.
How it works
Using the Spyder Checkr Photo is easier than it looks. Users simply need to take a "test shot" that includes the Spyder Checkr Photo's 48-color grid laid out as straight as possible (preferably towards the start of your shot and each time you change lenses, camera and light combination).
Then, once you're back in front of your computer ready to start editing, you need to crop the test image to show only the Spyder Checkr photo, then send it to Datacolor's SpyderCheckr software to create a profile. of correction to import into the application of your choice to ensure you have accurate and consistent colors in the rest of your images.
Above I mentioned that the Spyder Checkr Photo was photographed as straight as possible. It's simply because even though the Datacolor Spyder Checkr software is very simple and easy to use, unfortunately you cannot rotate or tilt the color swatch pattern to align the patches if the physical map itself was at an odd angle or if one of the colored targets is covered. The software lets you scale, flip, and resize the samples to fit your test shots, but if the cards aren't fully open, it can be difficult to align the image with the samples.
A good practice here is to take the Spyder Checkr photo as straight and clearly visible as possible, and as close as possible in order to get it "correctly" in camera. But once you're back in front of the computer and in Lightroom, you can use the transform tools to line up the shades perfectly using the guides, then crop the image to be as tight as possible. In addition, you must also set your white balance using Spyder Checkr Photo before exporting the image to load into the Datacolor SpyderCheckr software. You can find more information about this in the User Guide here.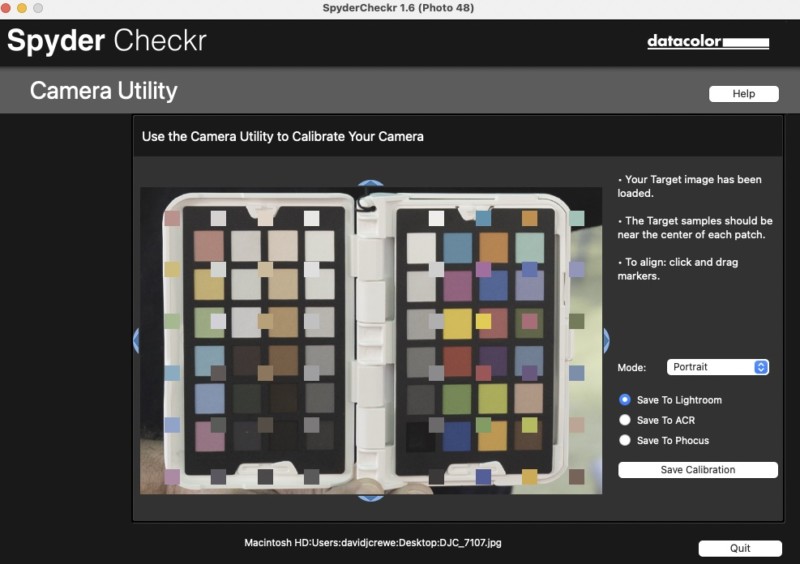 Once you have opened the software and have your cropped image of the Spyder Checkr photo, simply drag it into the Datacolor Spyder Checkr software to begin aligning the color swatches.
From there you select "Mode" for either Portrait or Saturation (yes there is a difference) then "Save Calibration" to create the preset for your application of choice. For my scenario, I selected Portrait Mode and Adobe Lightroom Classic where it will appear as a "User Preset" with the name I gave it.
At this point the app will tell you that the calibration preset/profile has been created and saved, allowing you to either create another calibration or prompt you to exit both the Datacolor software and Lightroom so it can load the preset(s) there.
Now that the Portrait preset has been loaded into Lightroom, you can apply it to images taken during this set to make white balance and color grading incredibly fast throughout processing.
Below are several portraits and event images captured and edited using Datacolor Spyder Checkr Photo:
Obviously, retouching is subjective and will vary for each client and project, but the bottom line is when it comes to color accuracy, you can be sure your images are accurate and consistent across every project when captured with the Spyder. Checker Photo. From personal experience having used the Spyder Checkr 24 and several other previous generations of color swatches, the new Spyder Checkr Photo is a massive improvement in usability.
The new system is much more compact, durable and easier to transport and transport safely. Also, using the Spyder Checkr Photo before and during light and lens changes on set might seem like a bit of a workflow slowdown at first, but it's a huge post time saver. -production, especially when it comes to customers and products. where colors must be 100% accurate.
The Datacolor Spyder Checkr Photo is now available for purchase for $99.99 directly from Datacolor and multiple retailers worldwide.
---
Full disclosure: This story is brought to you by Datacolor.